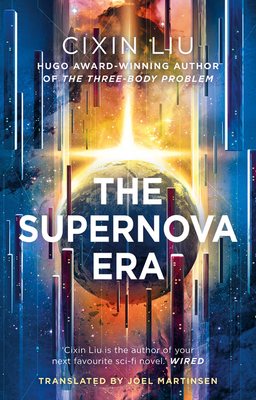 $35.00
NZD
Category: Sci Fi, Fantasy
'Cixin Liu is the author of your next favourite sci-fi novel' Wired. Celestial giants don't go peacefully. They tear themselves to pieces, unleashing a tsunami of ultra high-energy radiation. Eight years ago and eight light years away, a supermassive star died and tonight its supernova shockwave will fi nally reach Earth. Dark skies will shine bright as a new star blooms in the heavens and within a year everyone over the age of thirteen will be dead, their chromosomes irreversibly damaged. And so the countdown begins. Parents apprentice their children and try to pass on the knowledge they'll need to keep the world running. But the last generation may not want to carry the legacy of their parents' world. And though they imagine a better, brighter future, they may not be able to escape humanity's darker instincts... 'China's answer to Arthur C. Clarke' THE NEW YORKER. 'Wildly imaginative, really interesting ... The scope of it was immense' BARACK OBAMA. ...Show more
Piranesi
by Susanna Clarke
$29.99
NZD
Category: Sci Fi, Fantasy
From the New York Times bestselling author of Jonathan Strange & Mr Norrell, an intoxicating, hypnotic new novel set in a dreamlike alternative reality. Piranesi's house is no ordinary building: its rooms are infinite, its corridors endless, its walls are lined with thousands upon thousands of stat ues, each one different from all the others. Within the labyrinth of halls an ocean is imprisoned; waves thunder up staircases, rooms are flooded in an instant. But Piranesi is not afraid; he understands the tides as he understands the pattern of the labyrinth itself. He lives to explore the house. There is one other person in the house-a man called The Other, who visits Piranesi twice a week and asks for help with research into A Great and Secret Knowledge. But as Piranesi explores, evidence emerges of another person, and a terrible truth begins to unravel, revealing a world beyond the one Piranesi has always known. For readers of Neil Gaiman's The Ocean at the End of the Lane and fans of Madeline Miller's Circe, Piranesi introduces an astonishing new world, an infinite labyrinth, full of startling images and surreal beauty, haunted by the tides and the clouds.   ...Show more
$37.99
NZD
Category: Sci Fi, Fantasy
Epic fantasy legend, and author of no.1 New York Times bestselling series The Wheel of Time®, Robert Jordan's never-before published novel, Warrior of the Altaii. Draw near and listen, or else time is at an end. The watering holes of the Plain are drying up, the fearsome fanghorn grow more numerous, a nd bad omens abound. Wulfgar, a leader of the Altaii people, must contend with twin queens, warlords, prophets and magic in hopes of protecting his people and securing their future. Elspeth, a visitor from another world, holds the answers, but first Wulfgar must learn to ask the right questions. But what if the knowledge that saves the Altaii will also destroy them? 'Jordan has come to dominate the world Tolkien began to reveal.' New York Times ...Show more
$25.00
NZD
Category: Sci Fi, Fantasy | Series: Outlander
THE FIRST NOVEL IN THE BESTSELLING OUTLANDER SERIES. As seen on Amazon Prime TV. Previously published asCross Stitch. Claire Randall is leading a double life. She has a husband in one century - and a lover in another. In 1946, Claire Randall is back from the war and reunited with her husband on a second honeymoon in Scotland. Innocently she walks through a stone circle in the Highlands, and finds herself in a violent skirmish taking place in 1743. Suddenly she is a Sassenach, an outlander, in a country torn by war and by clan feuds. A wartime nurse, Claire can deal with the bloody wounds that face her. But it is harder to deal with the knowledge that she is in Jacobite Scotland and the carnage of Culloden is looming. Marooned amid the passion and violence, the superstition, the shifting allegiances and the fervent loyalties, Claire is in danger from Jacobites and Redcoats - and from the shock of her own desire for James Fraser, a gallant and courageous young Scots warrior. Jamie shows her a passion so fierce and a love so absolute that Claire becomes a woman torn between fidelity and desire, and between two vastly different men in two irreconcilable lives. ...Show more
$32.99
NZD
Category: Sci Fi, Fantasy
The touching, funny and heartwarming new novel from the Sunday Times bestselling author of How to Stop Time and Reasons to Stay Alive. Between life and death there is a library. When Nora Seed finds herself in the Midnight Library, she has a chance to make things right. Up until now, her life has been full of misery and regret. She feels she has let everyone down, including herself. But things are about to change. The books in the Midnight Library enable Nora to live as if she had done things differently. With the help of an old friend, she can now undo every one of her regrets as she tries to work out her perfect life. But things aren't always what she imagined they'd be, and soon her choices place the library and herself in extreme danger. Before time runs out, she must answer the ultimate question: what is the best way to live? ...Show more
$25.00
NZD
Category: Sci Fi, Fantasy | Series: The\Three-Body Problem Ser.
Half a century after the Doomsday Battle, the uneasy balance of Dark Forest Deterrence keeps the Trisolaran invaders at bay. Earth enjoys unprecedented prosperity due to the infusion of Trisolaran knowledge and, with human science advancing and the Trisolarans adopting Earth culture, it seems that the two civilizations can co-exist peacefully as equals without the terrible threat of mutually assured annihilation. But peace has made humanity complacent. Cheng Xin, an aerospace engineer from the 21st century, awakens from hibernation in this new age. She brings knowledge of a long-forgotten program dating from the start of the Trisolar Crisis, and her presence may upset the delicate balance between two worlds. Will humanity reach for the stars or die in its cradle? 'Cixin Liu is the author of your next favourite sci-fi novel' Wired. 'A milestone in Chinese science fiction' New York Times. ...Show more
$26.00
NZD
Category: Sci Fi, Fantasy
2020 Hugo Award for Best Dramatic Presentation (Long Form) to the Amazon/BBC tv series adaptation starring David Tennant and Michael Sheen. "Armageddon only happens once, you know. They don't let you go around again until you get it right."People have been predicting the end of the world almost from it s very beginning, so it's only natural to be sceptical when a new date is set for Judgement Day. But what if, for once, the predictions are right, and the apocalypse really is due to arrive next Saturday, just after tea?You could spend the time left drowning your sorrows, giving away all your possessions in preparation for the rapture, or laughing it off as (hopefully) just another hoax. Or you could just try to do something about it.It's a predicament that Aziraphale, a somewhat fussy angel, and Crowley, a fast-living demon now finds themselves in. They've been living amongst Earth's mortals since The Beginning and, truth be told, have grown rather fond of the lifestyle and, in all honesty, are not actually looking forward to the coming Apocalypse. And then there's the small matter that someone appears to have misplaced the Antichrist… ...Show more
$19.99
NZD
Category: Sci Fi, Fantasy | Series: The\Three-Body Problem Ser.
1967: Ye Wenjie witnesses Red Guards beat her father to death during China's Cultural Revolution. This singular event will shape not only the rest of her life but also the future of mankind. Four decades later, Beijing police ask nanotech engineer Wang Miao to infiltrate a secretive cabal of scientists after a spate of inexplicable suicides. Wang's investigation will lead him to a mysterious online game and immerse him in a virtual world ruled by the intractable and unpredictable interaction of its three suns. This is the Three-Body Problem and it is the key to everything: the key to the scientists' deaths, the key to a conspiracy that spans light-years and the key to the extinction-level threat humanity now faces. 'Cixin's trilogy is SF in the grand style, a galaxy-spanning, ideas-rich narrative of invasion and war' Guardian. 'Wildly imaginative, really interesting ... The scope of it was immense' Barack Obama, 44th President of the United States. ...Show more
Supernova Era
by Cixin Liu; Joel Martinsen (Translator)
$22.99
NZD
Category: Sci Fi, Fantasy
From the New York Times-bestselling and Hugo Award-winning author of The Three Body Problem comes a new science fiction masterpiece. Eight light years away, a star has died, creating a supernova event that showers Earth in deadly levels of radiation. Within a year, everyone over the age of 13 will die. And so the countdown begins. ...Show more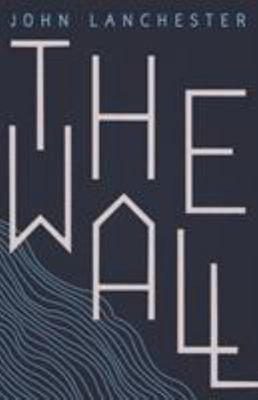 The Wall
by John Lanchester
$32.99
NZD
Category: Sci Fi, Fantasy
Kavanagh begins his life patrolling the Wall. If he's lucky, if nothing goes wrong, he only has two years of this, 729 more nights. The best thing that can happen is that he survives and gets off the Wall and never has to spend another day of his life anywhere near it. He longs for this to be over; long s to be somewhere else. He will soon find out what Defenders do and who the Others are. Along with the rest of his squad, he will endure cold and fear day after day, night after night. But somewhere, in the dark cave of his mind, he thinks: wouldn't it be interesting if something did happen, if they came, if you had to fight for your life? John Lanchester's thrilling, hypnotic new novel is about why the young are right to hate the old. It's about a broken world you will recognise as your own-and about what might be found when all is lost. ...Show more
$25.00
NZD
Category: Sci Fi, Fantasy | Series: Wool
"IS SEEING ALWAYS BELIEVING?How would you live in a world where rey skies are blue nd air is unbreathable here love is the greatest release nd the deadliest bond here every birth requires a death nd the choices you make could save lives or destroy them. This is Jules story his is the world of Wool."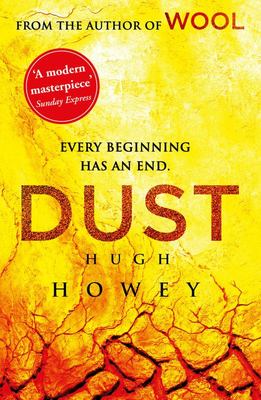 $25.00
NZD
Category: Sci Fi, Fantasy | Series: Wool Trilogy Ser.
The much-anticipated final instalment of the Wool trilogy. 'The next Hunger Games' The Sunday Times 'Thrilling, thought-provoking and memorable ... one of dystopian fiction's masterpieces alongside the likes of 1984and Brave New World.' Daily Express In the aftermath of the uprising, the people of Si lo 18 are coming to terms with a new order. Some embrace the change, others fear the unknown; none have control of their fate. The Silo is still in danger. There are those set on its destruction. Jules knows they must be stopped. The battle has been won. The war is just beginning. ...Show more