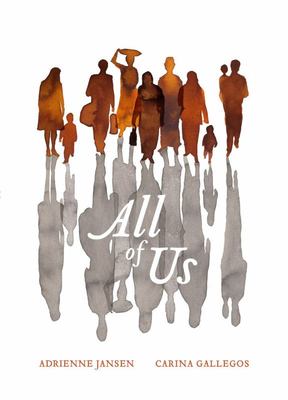 All of Us
by Adrienne Jansen & Carina Gallegos
$22.00
NZD
Category: Poetry
In All of Us, established New Zealand author Adrienne Jansen and exciting new writer Carina Gallegos use poems and short prose to weave together the vibrant, expansive, and sometimes heart-wrenching stories of immigrants and people from refugee background in New Zealand today. Drawing on their time spe nt with immigrant and refugee communities, their words delicately lift the veil that separates us, providing a moving exploration of the refugee and immigrant experience. All of Us is a timely reminder of the humanity that perseveres at the core of this global debate. ...Show more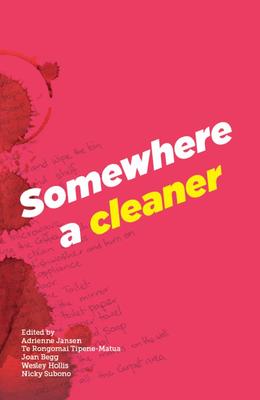 $25.00
NZD
Category: Poetry
Somewhere a cleaner Poems by cleaners from around New Zealand During the Covid-19 pandemic, we've all been thinking about essential services. Including cleaning. Cleaning is universal. It's steeped in tradition and culture. It's essential, it's ordinary and it's surprisingly poetic. Somewhere a cleaner captures the spirit, the highs and the lows, of this occupation that often falls below the radar. The poems range across hospitals, offices, marae, clocks, schools, boat hulls, sneakers and more. The poets themselves, a mix of novice and established writers, are equally diverse. Through songs, rhymes, deeply insightful poems and poignant small stories, this anthology gives a voice to a profession both invisible and indispensable. Endorsement: Having walked the corridors of hospitals for more than a few years, I can tell you that cleaners can sometimes be the best doctors of all. And now I find they can write some great poems too. This book is wonderfully democratic. The art here is in the work done before and beyond the writing. The endless picking up, mopping, smoothing and shining. And always, it seems, for someone else. These are poems with strong forearms. My deepest congratulations to every poet in this collection – and my long overdue thanks. I will never walk on a neatly mopped floor again. - Glenn Colquhoun ...Show more
$24.99
NZD
Category: Poetry | Series: Little Ways to Live a Big Life Ser.
'Someone recently said to me, in reference to my poetry podcast, that you'd think poetry would be more popular than ever, in the twenty-first century, because people don't have a lot of time and 'novels are often quite big while poems are often quite small'. I referred them to Doctor Who's Tardis.' Fra nk Skinner wants you to read more poetry. Wait, wait - don't stop reading. Whether you're a frequent poetry reader or haven't read any since sixth form, Frank's infectious passion for language, rhythm and metre will win you over and provide you with the basic tools you need to tackle any poem. In this short, easy-to-digest and delightful book, Frank guides us through the twists and turns of 'Pad, pad' by Stevie Smith, a short, seemingly simple poem that contains multitudes of meaning and a deceptive depth of emotion. Revel in the mastery of Stevie Smith's choice of words, consider the eternal mystery of the speaker of the poem and be moved by rhyming couplets like you never have before. Give it a go. You never know, you might even enjoy it. ...Show more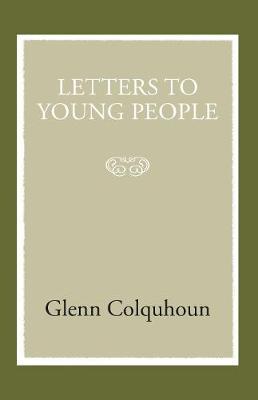 $35.00
NZD
Category: Poetry
"It is difficult to ignore the story of a young person. When they are in pain, that pain seems all the more demanding because they are vulnerable and because their life still lies ahead of them ... I have learnt that the most important medicine they need from me is to listen to these stories, to hold th em up, turn them around, and to let each young person then look back at them. They need me to be honest, and to hold what they have told me for as long as they want me to."  In this collection of poetry Glenn Colquhoun writes to the young people he works with at the Horowhenua Youth Health Service. Tender and poignant, wondering and wry, here his words become small scissors, knives, bandages and balms. Gathered together they represent an inventory of one doctor's consultations taken home, responses to those moments he might have woken in the middle of the night and wished he had said better. ...Show more
$25.00
NZD
Category: Poetry
From a longdrop that demands binoculars to Caberfeidh in the Catlins where his father picked plums from the passing train, Richard Langston writes poems that return over and over to the land. Born to a Lebanese immigrant family in Dunedin, and a Country Calendar director by trade, he is constantly refre shing his acquaintance with the country he calls home. Somehow writing it down seals the deal. 'We make marks in ink,' he says. 'We are here.' Poetry is incantation too, and Richard uses it to call family from the shadows and sing ancestors into being, a tentative offering to the country of his bones and of his heart. ...Show more
$25.00
NZD
Category: Poetry
Simon Sweetman – blogger, reviewer, podcaster, and author of On Song: Stories Behind New Zealand's Pop Classics – releases his first poetry collection, The Death of Music Journalism. Simon's been writing poems since he was first listening to bands on his Walkman, but then he started sharing them via soc ial media and open mic nights. Word got around and he was a sleeper hit at LitCrawl's Lit-Sync For Your Life and the 2020 Variety for Fierys. Marking a pivot from the razor-sharp and sometimes controversial music writing he is best known for, Simon's collection is as wide-ranging as his career to date. He writes about late-night encounters on the phone with rock stars, hanging out as a student in Wellington flats, the simplicity of time spent with family and the unpredictable life of a freelance music reviewer, and what happens when these things occasionally intersect. A natural storyteller whose poetry is filled with characters both famous and ordinary, this eagerly awaited collection is unpredictable, anarchic, playful and surprisingly heartfelt.   ...Show more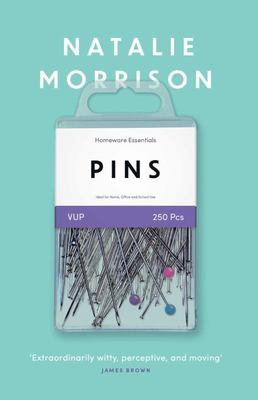 Pins
by James Brown
$25.00
NZD
Category: Poetry
If all the pins in the world were gathered together you would be very much pleased. But all the pins in the world cannot be gathered together. At the centre of this book-length poem is a sister's disappearance, and a peculiar inheritance: an obsession with pins. Pins held between the teeth to tell a fo rtune, a downpour of a thousand pins, precious pins borrowed for an art installation. In this intelligent, intimate and often comic depiction of two sisters and their family, Natalie Morrison gathers together many tiny pinpricks of loss. Part poem, part letter, part inventory - but not limited to any one of these categories - this is a mesmerising debut. ...Show more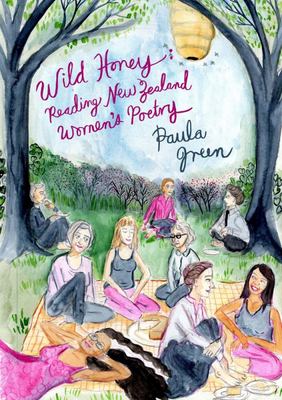 $45.00
NZD
Category: Poetry
New Zealand women have published poetry for over 150 years. In this landmark book, poet and anthologist Paula Green celebrates and makes connections between 201 of them, from emerging poets and those who are household names to those who have slipped from public view or were not paid the honour they were due in their lifetimes.  Wide-ranging, engaging and affecting, Wild Honey celebrates the many ways in which poems by women deserve a place in the literary canon of Aotearoa. Charming and unique, the book's chapters follow the structure of a house, with different poets being discussed and assessed in each of the house's rooms.  The selection is enormously generous, the tone is at times gentle and accessible, and Green's reach is wide. She brings the pioneers of women's poetry — Jessie Mackay, Blanche Baughan and Eileen Duggan — back from the shadows, and she also draws our attention to the remarkable stories of forgotten women poets such as Lola Ridge. ...Show more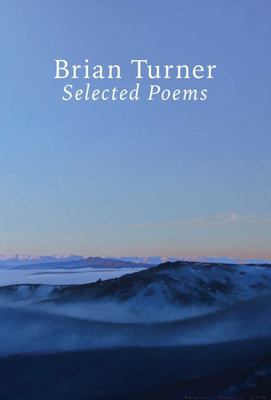 $40.00
NZD
Category: Poetry
This book is the first to represent the full extent of Brian Turner's achievement as a poet, from his Commonwealth Poetry Prize-winning debut, Ladders of Rain, to poems written in 2018. One of New Zealand's most acclaimed and widely read contemporary poets, Turner is a proud southerner, and the landscap es and skyscapes of the central South Island are amongst the strongest characteristics of his work. His themes range widely, and make striking connections poems about fathers and sons are also poems about the duties of care we owe to the natural world; love poems open out into metaphysical inquiry; satire keeps close company with political protest. Turner's work is distinguished always by his unmistakable wit and feeling, precision and insight. ...Show more
Flame (PB)
by Leonard Cohen; Adam Cohen (Introduction by)
$32.99
NZD
Category: Poetry
THE NEW YORK TIMES BESTSELLERThe Flame is the final work from Leonard Cohen, the revered poet and musician whose fans span generations and whose work is celebrated throughout the world. Featuring poems, excerpts from his private notebooks, lyrics, and hand-drawn self-portraits, The Flame offers an intim ate look inside the life and mind of a singular artist.A reckoning with a life lived deeply and passionately, with wit and panache, this collection is a valedictory work. ...Show more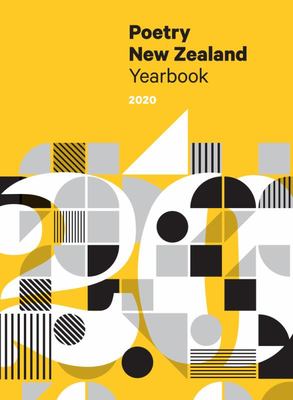 $35.00
NZD
Category: Poetry | Series: Poetry New Zealand Yearbook Ser.
Each year Poetry New Zealand, this country's longest-running poetry magazine, rounds up new poetry, reviews and essays, making it the ideal way to catch up with the latest poetry from both established and emerging New Zealand poets. Issue #54 features 133 new poems (including by this year's featured poe t, rising star essa may ranapiri, and C.K. Stead, Elizabeth Smither, Kevin Ireland, Chris Tse, Gregory Kan, Fardowsa Mohammed and Tracey Slaughter); essays (including a graphic essay by Sarah Laing); and reviews of new poetry collections. Poems by the winners of both the Poetry New Zealand Award and the Poetry New Zealand Schools Award are among the line-up. ...Show more
Specimen
by Madison Hamill
$30.00
NZD
Category: Poetry
A father rollerblading to church in his ministerial robes, a university student in a leotard sprinting through fog, a trespass notice from Pak'nSave, a beautiful unborn goat in a jar . . . In scenarios ranging from the mundane to the surreal, Madison Hamill looks back at her younger selves with a sharp eye. Was she good or evil? Ignorant or enlightened? What parts of herself did she give up in order to forge ahead in school, church, work, and relationships, with a self that made sense to others? With wit and intelligence, these shape-shifting essays probe the ways in which a person's inner and outer worlds intersect and submit to one another. It is a brilliantly discomfiting, vivid and funny collection in which peace is found in the weirdest moments.    ...Show more