$22.99
NZD
Category: Personal Development
'Elizabeth Day has revolutionised the way we see failure' Stylist 'A beautiful timely and humane book' Alain de Botton 'Most failures can teach us something meaningful about ourselves if we choose to listen' In Failosophy Elizabeth Day brings together all the lessons she has learned, from conversatio ns with the guests on her award-winning How to Fail podcast, from stories shared with her by readers and listeners, and from her own life, and distils them into seven principles of failure.   Practical, reassuring and inspirational, these principles offer a guide through life's rough patches. From failed exams to romantic break-ups, from career setbacks to confidence crises, from navigating anxiety to surviving loss, Failosophy recognises, and celebrates, the fact that failure connects us all. It is what makes us human.   With insights from Malcolm Gladwell, Phoebe Waller-Bridge, Lemn Sissay, Frankie Bridge, Nigel Slater, Emeli Sande, Alain de Botton, Mabel, Fearne Cotton, Meera Syal, Dame Kelly Holmes, Andrew Scott and many, many more, Failosophy is the essential handbook for turning failure into success. insights from Malcolm Gladwell, Phoebe Waller-Bridge, Lemn Sissay, Frankie Bridge, Nigel Slater, Emeli Sande, Alain de Botton, Mabel, Fearne Cotton, Meera Syal, Dame Kelly Holmes, Andrew Scott and many, many more, Failosophy is the essential handbook for turning failure into success.insights from Malcolm Gladwell, Phoebe Waller-Bridge, Lemn Sissay, Frankie Bridge, Nigel Slater, Emeli Sande, Alain de Botton, Mabel, Fearne Cotton, Meera Syal, Dame Kelly Holmes, Andrew Scott and many, many more, Failosophy is the essential handbook for turning failure into success.insights from Malcolm Gladwell, Phoebe Waller-Bridge, Lemn Sissay, Frankie Bridge, Nigel Slater, Emeli Sande, Alain de Botton, Mabel, Fearne Cotton, Meera Syal, Dame Kelly Holmes, Andrew Scott and many, many more, Failosophy is the essential handbook for turning failure into success. ...Show more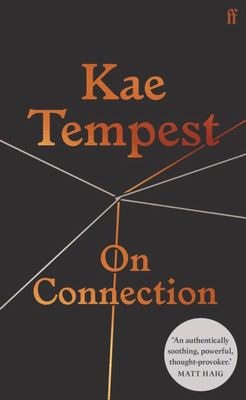 $16.99
NZD
Category: Health, Wellbeing, Medicine | Series: Faber Social Ser.
Staggering talent Kae Tempest's first work of non-fiction: a hopeful theory of creativity - the power of creative connection to act as the antidote to numbness.The increasingly hyper-individualistic, competitive and exploitative society that we live in has caused a global crisis at the turn of the new d ecade; in order to survive, numbness has pervaded us all.In this urgent and incisive pamphlet, Kae (formerly Kate) Tempest leads the reckoning against this system, placing our legacy in our own hands. Creativity holds the key: the ability to provide us with internal and external connection, to move us beyond consumption, to allow us to discover authenticity and closeness to all others, to deliver us an antidote for our numbness. This is beyond 'art'. Creative connection is anything that brings us closer to ourselves and fellow human beings, and it has the potential to offer insights into mental health, politics and beyond. Powerful, hopeful and full of humanity, On Connection confirms Tempest as one of the most important voices of their generation. ...Show more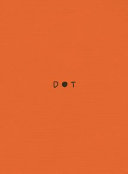 Dot
by Kieran E. Scott
$26.00
NZD
Category: Personal Development
Are you feeling a little bit (or a lottle bit) anxious?Meet DOT, who's here to help. In this beautiful little hand-drawn book, DOT offers a practical way to comfort and calm anyone anxious, stressed or overwhelmed. For anyone (big or small) who wants to take a moment and some nice, deep breaths.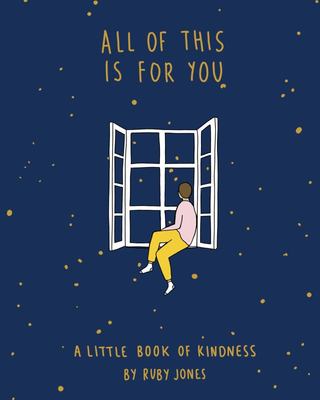 $24.00
NZD
Category: Personal Development
In this new book, celebrated artist Ruby Jones shares dozens of luminous, heartfelt, hand-lettered artworks and messages. Life can be a bit overwhelming sometimes, but Ruby's witty, compassionate, beautifully observed drawings never fail to bring a smile of recognition, while her practical words of advi ce remind us how lucky we are to be here - and how we can be kinder to ourselves, to the people in our lives, and to the world around us. A thoughtful gift for any person needing a little inspiration in today's world. 'I hope that on any given day, rain or shine, happy tears or painful ones, you can open this book and find a page that speaks to you.' -Ruby Jones ...Show more
$32.99
NZD
Category: Health, Wellbeing, Medicine
Heather Morris, author of the internationally bestselling novels The Tattooist of Auschwitz and Cilka's Journey, grew up on a farm in rural New Zealand. On her way back across the paddocks from school, Heather would visit her great-grandfather and listen to his experiences of war - stories he told only Heather. From a young age Heather discovered that people would tell her their stories if she stopped and listened. In Stories of Hope, Heather Morris will explore the art of listening - a skill she employed when she met Lale Sokolov, the Tattooist of Auschwitz. It was her ability to listen that led him to entrust her with his story. Stories of Hope will examine Heather's extraordinary journey, in the form of a series of beautifully rendered tales of the people she has met, the remarkable stories they have shared with her, and the lessons they hold for us all.   ...Show more
$24.99
NZD
Category: Medicine | Series: Wellcome Ser.
For most of human history, death was a common, ever-present possibility. It didn't matter whether you were five or fifty - every day was a roll of the dice. But now, as medical advances push the boundaries of survival further each year, we have become increasingly detached from the reality of being mort al. So here is a book about the modern experience of mortality - about what it's like to get old and die, how medicine has changed this and how it hasn't, where our ideas about death have gone wrong. With his trademark mix of perceptiveness and sensitivity, Atul Gawande outlines a story that crosses the globe, as he examines his experiences as a surgeon and those of his patients and family, and learns to accept the limits of what he can do.Never before has aging been such an important topic. The systems that we have put in place to manage our mortality are manifestly failing; but, as Gawande reveals, it doesn't have to be this way. The ultimate goal, after all, is not a good death, but a good life - all the way to the very end.Published in partnership with the Wellcome Collection.WELLCOME COLLECTIONWellcome Collection is a free museum and library that aims to challenge how we think and feel about health. Inspired by the medical objects and curiosities collected by Henry Wellcome, it connects science, medicine, life and art. Wellcome Collection exhibitions, events and books explore a diverse range of subjects, including consciousness, forensic medicine, emotions, sexology, identity and death. Wellcome Collection is part of Wellcome, a global charitable foundation that exists to improve health for everyone by helping great ideas to thrive, funding over 14,000 researchers and projects in more than 70 countries.wellcomecollection.org ...Show more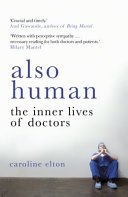 $28.00
NZD
Category: Medicine
_____________________________ 'A furious dispatch from the front line of the hospital system.' THE TIMES, Book of the Week _____________________________ Doctors are the people we turn to in our darkest moments. We trust them with our lives. But what does that stress do to a person? What does it take to confront death, disease, distress and suffering every day? To work in a healthcare system stretched to breaking point? To make decisions that will change lives - or possibly end them? And how do doctors cope with their own questions and fears, when they are expected to have all the answers? Caroline Elton is a psychologist who, for two decades, has specialised in helping doctors: the obstetrician whose own fertility treatment failed; the trainee oncologist struggling to face patients with the disease that killed her father; the brilliant neurosurgeon whose career stalled in an environment hostile to women; and many more. Drawing on extraordinary case studies and decades of work supporting clinicians, Also Human presents a provocative, perceptive and deeply humane examination of the modern medical profession. _____________________________ 'Written with perceptive sympathy for the wounded healer, it is necessary reading for both doctors and patients.' HILARY MANTEL 'Crucial and timely.' ATUL GAWANDE 'Fascinating and troubling. Read it and weep.' SUSIE ORBACH 'Haunting, beautiful and urgent.' JOHANN HARI 'At the heart of this book is the problem of how emotional resilience can be identified in prospective doctors and strengthened in practising doctors. We are fallible human beings, not omniscient gods.' HENRY MARSH, SUNDAY TIMES ...Show more
$37.99
NZD
Category: Health, Wellbeing, Medicine
The mental wellbeing of children and adults is shockingly poor. Marc Brackett, author of Permission to Feel, knows why. And he knows what we can do. Marc Brackett is a professor in Yale University's Child Study Center and founding director of the Yale Center for Emotional Intelligence. In his 25 years as an emotion scientist, he has developed a remarkably effective plan to improve the lives of children and adults - a blueprint for understanding our emotions and using them wisely so that they help, rather than hinder, our success and well-being. The core of his approach is a legacy from his childhood, from an astute uncle who gave him permission to feel. He was the first adult who managed to see Marc, listen to him, and recognize the suffering, bullying, and abuse he'd endured. And that was the beginning of Marc's awareness that what he was going through was temporary. He wasn't alone, he wasn't stuck on a timeline, and he wasn't "wrong" to feel scared, isolated, and angry. Now, best of all, he could do something about it. In the decades since, Marc has led large research teams and raised tens of millions of dollars to investigate the roots of emotional well being. His prescription for healthy children (and their parents, teachers, and schools) is a system called RULER, a high-impact and fast-effect approach to understanding and mastering emotions that has already transformed the thousands of schools that have adopted it. RULER has been proven to reduce stress and burnout, improve school climate, and enhance academic achievement. This book is the culmination of Marc's development of RULER and his way to share the strategies and skills with readers around the world. It is tested, and it works. This book combines rigour, science, passion and inspiration in equal parts. Too many children and adults are suffering; they are ashamed of their feelings and emotionally unskilled, but they don't have to be. Marc Brackett's life mission is to reverse this course, and this book can show you how. ...Show more
$40.00
NZD
Category: Health, Wellbeing, Medicine
The Sunday Times Bestseller and New York Times Bestseller. A book of hope for uncertain times. 'Feeling a little blue? Meet the new Winnie the Pooh.' The Daily Mail 'A wonderful work of art and a wonderful window into the human heart' Richard Curtis Enter the world of Charlie's four unlikely friends, di scover their story and their most important life lessons. The conversations of the boy, the mole, the fox and the horse have been shared thousands of times online, recreated in school art classes, hung on hospital walls and turned into tattoos. In Charlie's first book, you will find his most-loved illustrations and some new ones too.     ...Show more
$37.99
NZD
Category: Medicine
Since it was first published in 1995, "The Wounded Storyteller" has occupied a unique place in the body of work on illness. Both the collective portrait of a "remission society" of those who suffer from some type of illness or disability and a cogent analysis of their stories within a larger framework o f narrative theory, Arthur W. Frank's book has reached a large and diverse readership, including the ill, medical professionals, and scholars of literary theory. Drawing on the work of authors such as Oliver Sacks, Anatole Broyard, Norman Cousins, and Audre Lorde, as well as the people he met during the years he spent among different illness groups, Frank recounts a stirring collection of illness stories, ranging from the well-known - Gilda Radner's battle with ovarian cancer - to the private testimonials of people with cancer, chronic fatigue syndrome, and disabilities. Their stories are more than accounts of personal suffering: they abound with moral choices and point to a social ethic. In this new edition Frank adds a preface describing the personal and cultural times when the first edition was written. His new afterword extends the book's argument significantly, writing about storytelling and experience, other modes of illness narration, and a version of hope that is both realistic and aspirational. Reflecting on both his own life during the creation of the first edition and the conclusions of the book itself, Frank reminds us of the power of storytelling as way of understanding our own suffering. ...Show more